FAQ
frequently asked questions

Have More Questions?
Orders are shipped "Quarterly" and will be sent on the following shipment month from when your order is placed. Shipment months are March, June, September and December. For example, orders placed in January will ship out in the March shipment, orders placed in late June will ship out in the September shipment. Shipments go out at the middle of each month.
All of our bottles come from family owned and run distillers.  Small batch, estate grown Tequilas that you won't find in your local liquor store. Each Tequila is specifically curated from Jalisco's family grower producers...truly hidden gems. We will also include information on the specific bottles, regions, flavor profiles, tasting notes, pairing suggestions, and what makes these Tequilas so unique!
Every subscription is charged taxes and shipping which are not calculated in the Quarterly cost.
All shipments require an adult signature and ID by someone 21 or older upon delivery.
Your Quarterly payment is processed the first day of the shipment month.
Yes, all our bottles are 750ml unless otherwise noted.
GSO Shipping will attempt to deliver 3 times. Once you receive your shipment notification email, you can call GSO at (800) 322-5555 and schedule a custom time frame for delivery. *We will not be responsible for shipping charges incurred for misdirected shipments or shipments that have made 3 attempts for delivery.
Once you activate your account, you can login to manage your account. You can adjust frequency, skip, gift or cancel shipments from this page. We are also happy to help customize anything you need as well!
We are happy to assist in helping you make any changes you need to make on your account including address changes, credit card info, shipping schedule changes, and more by emailing us below. If you prefer to do it yourself, you can simply log in to your account and follow this Step by Step Guide.
You can pause or cancel your membership at any time with no fees. Simply email us below or you can log in to your account and follow this Step by Step Guide.
You can fill out this email form below and we will do our best to get back with you as promptly as possible!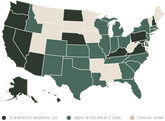 Available to ship to 40 states and counting!